2011 Santa Fe Wine & Chile Fiesta



Melinda K. Hall has been chosen as the featured artist of the 21st Annual Santa Fe Wine and Chile Fiesta. Other artists that have received this honor include Ramona Sakiestewa, Ford Ruthling, Doug Coffin, Ted Rose, Susan Contreras, Fredrico Vigil, Elias Rivera, Nadine Gurule, Roger Williams and most recently, Georgia O'Keeffe.
Melinda created and donated an original oil painting of event-related art titled "Dionysus: A Brief History" which measures 46" h x 46" w. "Dionysus" will be featured on the official event poster, the program guide cover, the featured t-shirt, wine label, and all advertising and other promotion items associated with the 21st annual Santa Fe Wine & Chile Fiesta (2011).

The events are scheduled from September 21 - 25th, 2011. Additionally, the original oil painting donated to the event by Hall will be sold at a live auction with the proceeds to benefit culinary programs like Cooking with Kids.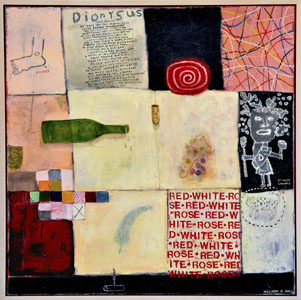 click for full image